EquityBot is a stock-trading algorithm that "invests" in emotions such as anger, joy, disgust and amazement. During stock market hours, EquityBot tracks sentiments on Twitter to gauge how the world is feeling. It then links these emotions with actual stocks to make investments using a simulated brokerage account.
The project treats twenty-four states of human affect as tradable commodities. During stock market hours, EquityBot autonomously generates simple data visualizations that illustrate how the world is feeling alongside the market performance of its emotional equities. Using its own Twitter feed as a site for performance, EquityBot issues daily text and images updates regarding its "emotional investments".
In this era of advanced capitalism, high-frequency trading (HFT) algorithms comprise the large majority of stock trades. Traders often prefer abstracted entities such as Exchange Traded Funds (ETFs) rather than traditional stocks. EquityBot is both critique and experiment, architecting a system of emotional trading and, perhaps generating a profit at the same time.
About the artist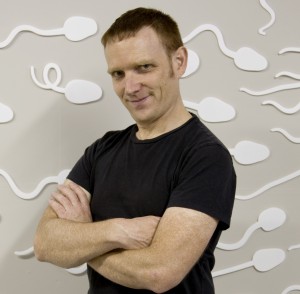 Scott Kildall is cross-disciplinary artist who writes algorithms that transform various datasets into 3D sculptures and installations. The resulting artworks often invite public participation through direct interaction.
His work has been exhibited internationally at venues including the New York Hall of Science, Transmediale, the Venice Biennale and the San Jose Museum of Art.
He has received fellowships, awards and residencies from organizations including Impakt Works, Autodesk, Recology San Francisco, Turbulence.org, Eyebeam Art + Technology Center, Kala Art Institute and The Banff Centre for the Arts.
Scott received an M.F.A. (2006) from the School of the Art Institute of Chicago from the Art & Technology Studies Department and a B.A. from Brown University in Political Philosophy.
Website: www.kildall.com
Twitter: @kildall